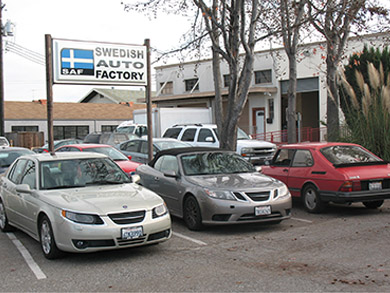 In 1978, business owner Paul Perry's passion for European cars lead to the opening of European Auto Factory, orignally known as "The Saab Factory." With more than 100 years of combined experience, we know Saabs inside and out. Our service staff is well-trained in, and experienced with, factory- approved diagnostic equipment , testing and diagnostic procedures. As one of the largest independent specialty repair shops in the San Francisco Bay area, we have always stressed customer service and the proper tools to do the job right.
Paul is also widely considered the foremost vintage Saab authority, and still participates in day-to-day business. We work on all Saab models, just give us a call!
Some examples of our services include:
A/C & heater and climate control system services
Anti-lock brake and traction control diagnostic and repair
Auto electrical system diagnosis and repair
Check engine light diagnostic (for all lines)
Control unit and key programming
Cooling system service
Exhaust system (mufflers, etc.)
Engine repair
Transmission and clutch, repair or replacement.
Full brake service
Oil changes by appointment or while you wait
Routine Saab maintenance services
Safety restraint system diagnostic and repair
Software reloads and upgrades
Vintage Saab repair
Make an Appointment Online Today!